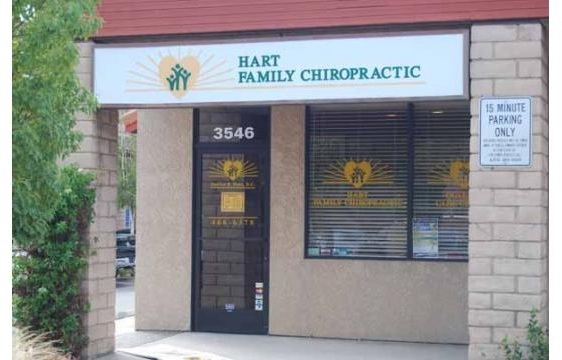 3546 El Camino Real, Atascadero, CA 93422
Hart family chiropractic strives to make a positive contribution to the lives of people in SLO county by providing quality chiropractic care and education on how to live a more healthy life. Our intent is to inform, educate and lead you to a more healthy way of being and to provide connection with the community. We are located in the Kennedy Plaza and serve Atascadero, Paso Robles, Santa Margarita and Templeton. We serve all ages and walks of life from newborns to their grandparents, people who are healthy and those who are striving for health. We provide care through an understanding and respect of the power that creates life.
About:
Dr. Darren R. Hart was born and raised in Atascadero and received his education at Atascadero High School, Cal Poly, and palmer college of chiropractics. He was inspired to become a chiropractor after a life-saving chiropractic adjustment as a young child. Through his gentle healing touch, Dr. Hart enjoys giving back to others what chiropractic gave to him.
Testimonials:
They always return my phone calls quickly. I always know that I'll get a prompt answer to my question. I was completely at ease during my appointment here. They went to great lengths to make sure I was completely relaxed and comfortable the entire time. They were by far one of the best I've ever seen in their field. It was obvious that they've been exceeding their clients' expectations for many years. When comparing them to others I have visited for the same condition, they are among the best I have seen. – Lily
Services Offered:
Chiropractor
Adjustments
Back pain
Gentle adjustments
Custom foot orthotics
Pediatrics
Vitamin supplements
headache treatments
injury care and prevention
License Number:
Payment Accepted:
Cash
Check
Visa
MasterCard
Discover
American Express
Parking Situation: