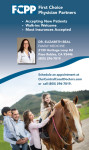 2130 Heritage Loop Road, Paso Robles, CA, United States
Primary Care / Family Medicine
Dr. Beal is a board-certified family medicine physician and a member of the ACOFP of CA (America College of Osteopathic Family Physicians), AOA (American Osteopathic Association) and the AAFP (American Academy of Family Physicians). She enjoys treating patients of all ages from pediatric to geriatric medicine.
Dr. Beal received her undergraduate degree in Chemistry from Sonoma State University. She then obtained her 4 year doctoral degree from Touro University, College of Osteopathic Medicine in Vallejo (Mare Island) California. During her training at Touro, she learned OMT (Osteopathic Manipulative Treatment), hands on treatment that she provides as part of her patient care.
Dr. Beal is dedicated to providing the knowledge and resources to help patients take better care of themselves and manage their chronic conditions. She is eager to take on new patients and share her experience and knowledge in improving and maintaining your family health care needs.